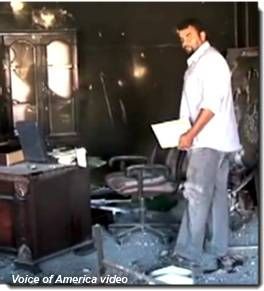 The UN said in its resolution said that they wanted to protect civilians. I am a civilian. I'm asking the United Nations and the National Transition Council for help for the citizens of Sirte. Ali Salah Arzaga, Sirte, Libya. (His home and business were destroyed in the final assault on his city.)
There are very public smoking guns that inculpate the rulers of the United States, the United Kingdom, France and others in war crimes in Libya.
The rationale for NATO's entry into the Libyan conflict was based on humanitarian principles, correctly noted by Mr. Arzaga. (left, text and image: VOA video). The United Nations Security Council passed resolution 1973 on March 17 and NATO followed up with actions that the alliance and its partner Qatar claimed conformed to the resolution. The sole purpose of NATO's involvement was to "protect the Libyan population," we were told.
The outcome has been anything but humanitarian. Tens of thousands of Libyans are injured or dead. The nation's infrastructure is in tatters. One city, Sirte, was destroyed during the final push while another city, the non-Arab Black Libyan town of Tawergha, is absent its entire population, 25,000 residents. They were there just a few weeks ago.
To understand what was done by participating NATO nations and Qatar, which joined the effort, and answer questions about war crimes, consider the following: the United Nations authorization for NATO assistance, the NATO declarations of intent and actions, plus reports of behavior, and the Protocol 1 of the Geneva Convention, 1977. With this foundation, it will be possible to evaluate the behavior of NATO and Qatar.