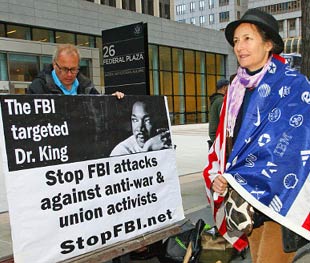 Latino and Muslim Leaders Hold Public Forum on Saturday, October 15, 2011 to Stop Fed and Local Police Investigations and Spying Based on Political Expression and 'Religious Profiling'
WHEN: Saturday Oct. 15 at 4pm
WHERE: Judson Memorial Church (Assembly Hall), 239 Thompson St. (by Washington Sq. South)

Contact 1: James Owens - [773-474-3837], NY Committee to Stop FBI Repression
Contact 2: Teresa Gutierrez – [917-328-6470], May 1st Coalition for Worker and Immigrant Rights
Speakers:
Carlos Montes, California Chicano and immigrant rights activist whose home was raided in May by the FBI in May 2011, facing trial in days for 2008 Republican National Convention organizing;
Tracy Molm, a Minneapolis anti-war and union organizer whose home was raided by the FBI last year and one of 23 anti-war activists resisting grand jury investigations driven by the FBI;
Teresa Gutierrez, representing the Victor Toro Defense Committee. Victor is a Bronx Community organizer facing deportation;
Cyrus McGoldrick, New York Council on American Islamic Relations, who will "connect the dots" about the recently uncovered NYPD unit trained by the CIA to spy on entire communities based on "ancestry" and religion.
Endorsed by the NY Committee to Stop FBI Repression, the May 1st Coalition for Worker and Immigrant Rights, NY Council on American Islamic Relations, and Bayan USA.