By Michael Collins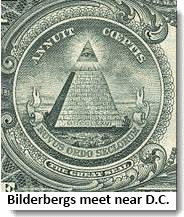 (Chantilly, VA 6/3/2012) The Bilderberg Group completed its annual meeting today in Northern Virginia. The group was founded in 1954 by the financial, political, and military elites of Europe and the United States. Annual meetings provide for "regular, off-the-record discussions [to] help create a better understanding of the complex forces and major trends affecting Western nations in the difficult post-war period." Bilderberg Meetings, Official Website
The inherent contradiction in this mission statement is glaringly obvious. These are the very same people who put in place and control the governments and programs that they're meeting in private to "discuss." Don't they discuss these things before and during their masquerade of governance?
The group's official meeting website says, "What is unique about Bilderberg as a forum is the privacy of the meetings, which has no purpose other than to allow participants to speak their minds openly and freely."
When the world's ultra-rich and powerful meet to address major sociopolitical problems in a forum based on privacy, it's time to take a closer look.
Trust the Bilderberg Group at your own peril