By Numerian posted by Michael Collins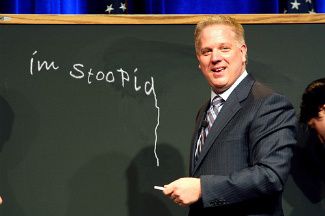 Two score and seven years ago the nation's dispossessed thronged the Lincoln Memorial to hear Martin Luther King define the struggle for African-American civil rights. (Image)
Today it was the turn of the nation's disenfranchised to gather at the same place, lamenting their lost supremacy as a superior race, and longing for a prophet to lead them back to the mountain top. That prophet, the nation's self-anointed Jeremiah, was FOX News entertainer Glenn Beck.
Glenn Beck, a man who only ten years ago was wallowing in drug addiction, is a reformed sinner who has seen the light and believes he has a God-given obligation to bring America out of the wilderness. Whether God has anything to do with Glenn Beck's mission is subject to personal belief, but no one can doubt that Glenn Beck has someone as powerful as God behind him – Rupert Murdoch.
It is Murdoch who has given Beck his daily pulpit on FOX News, which has led to the ascendancy of Beck's personal brand in the marketplace. Beck is hardly spreading his message while wearing sackcloth and ashes; he travels across the country in his private jet, bringing in hundreds of millions of dollars a year from lecture tours, book signings, and speeches at Tea Party rallies.