By Michael Collins
Satire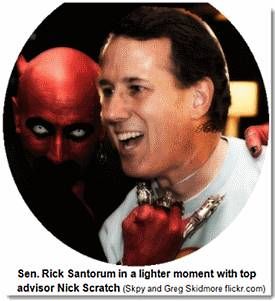 (Washington, DC) Senator Rick Santorum knows something many of us do not. Satan is waging war on the United States. This is no scruffy terrorist group carrying explosives in their underwear or shoes. It is Satan himself, also known as the Devil, Mephistopheles, the Beast, etc. (Image one, two)
How does the senator know so much about this attack?
Santorum hears voices.
Four years ago, he admitted just that:
"Satan is attacking the great institutions of America, using those voices of pride, vanity, and sensuality as the root to attack all of the strong plants that has (sic) deeply rooted in the American tradition," Senator Rick Santorum from The Daily Beast
That's a very strong statement. Some wonder if the senator is barking-at-the-moon mad. Santorum is undeterred. Campaigning in Arizona, he asserted his right to speak out about "good and evil." He referenced former President Ronald Reagan as one political leader who shared this view. Santorum also shares Reagan's strongly held conviction that trees cause pollution.