Stephen Lendman (stephenlendman.org (Home - Stephen Lendman)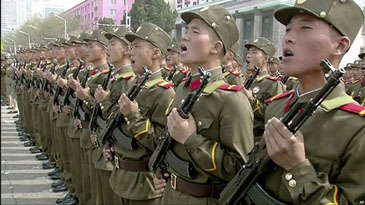 Decades of US hostility toward Pyongyang could be resolved by America saying let's talk, followed by officials of both countries meeting face-to-face for good faith discussions - something neocons infesting Washington reject.
Instead, the Trump administration intends instituting tougher anti-DPRK measures than already - stiffer sanctions and whatever else it has in mind.
Trump officials signaled policies coming to try strangling Pyongyang economically and financially, including more sanctions on China for failure to observe Washington rules.
The tougher US policies get, the more determined the DPRK becomes to strengthen its nuclear and ballistic missile deterrents, its best defense against possible US aggression.
Trump officials lied, claiming greater than ever stakes following Pyongyang's July 4 ballistic test - an intermediate-range one, Russia explained, not an ICBM as Western sources and media reported.
Alaska and Hawaii aren't close to being in range of North Korean ballistic missiles. Most important, its government has no aggressive intentions. It solely wants a deterrence capability if attacked - what's important for all nations.
North Korea has no known assets in the West to freeze. China is another story. In late June, Treasury Secretary Mnuchin announced US sanctions on China's Bank of Dandong for alleged dealings with North Korea.
Without corroborating evidence, he claims it's a "gateway for (the DPRK) to access the US and international financial systems, facilitating millions of dollars of transactions for companies involved in North Korea's nuclear and ballistic missile programs."
Sanctions were also imposed on two Chinese individuals and a Chinese company. New ones may target Beijing's Dandong Zhicheng Metallic Material Co.
Again with no corroborating evidence, Trump officials claim it's one of the largest importers of North Korean goods. Other Chinese banks may be targeted for alleged dealings with Pyongyang.
According to Mnunchin, "(w)e will continue to look at these actions and continue to roll out sanctions."
Last week, during a Security Council session on North Korea, neocon US UN envoy Nikki Haley threatened "the full range of our capabilities to defend ourselves and our allies."
Sanctions may not be enough, she added, suggesting possible military force - risking unthinkable nuclear war on the Korean peninsula if launched.
US imperial madness threatens everyone everywhere.
-###-
Stephen Lendman lives in Chicago. He can be reached at lendmanstephen@sbcglobal.net.
VISIT MY NEW WEB SITE: stephenlendman.org (Home - Stephen Lendman)

My newest book as editor and contributor is titled "Flashpoint in Ukraine: How the US Drive for Hegemony Risks WW III."
Virus-free. www.avg.com