Stephen Lendman (stephenlendman.org (Home - Stephen Lendman)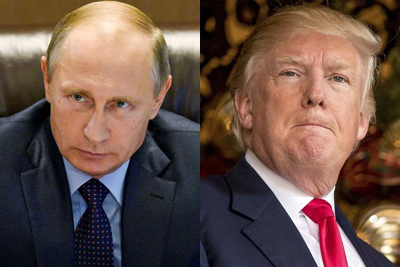 Following their meeting in Hamburg, Germany, Vladimir Putin said both leaders agreed to "create a working group and work together on how to jointly monitor security in cyberspace."
Trump tweeted: "Putin & I discussed forming an impenetrable Cyber Security unit so that election hacking, & many other negative things, will be guarded.."
"...We negotiated a ceasefire in parts of Syria which will save lives. Now it is time to move forward in working constructively with Russia!" A follow-up tweet said: "The fact that President Putin and I discussed a Cyber Security unit doesn't mean I think it can happen. It can't-but a ceasefire can,& did!"
The latter is remote at best. Most likely it'll fail like previous Russia/US cessation of hostilities deals, a convenient pretext foiling them because Washington wants endless war and regime change, not resolution and respect for Syrian sovereignty.
Trump's about-face on cybersecurity cooperation with Russia followed congressional criticism of the idea.
It shows mutual cooperation between both countries on virtually anything of importance won't happen because dark forces in Washington reject it.
Republicans and Democrats overwhelmingly shun improved bilateral ties, irresponsibly calling Russia America's top threat - utter nonsense but the deception continues.
Longstanding neocon Russophobe Senators John McCain and Lindsey Graham blasted the notion of of Washington cooperating with Russia on cybersecurity.
McCain repeated the Big Lie about nonexistent Russian US election hacking, scoffing at the notion of cooperating on any vital issue.
Graham called joint cybersecurity efforts "close to the dumbest idea (he) ever heard of," adding their Hamburg meeting was "disastrous."
Neocon Senator Marco Rubio tweeted Putin "will never be a trusted ally or a reliable constructive partner."
Comments from undemocratic Democrats were just as harsh, outrageously saying joint efforts would harm US cybersecurity.
On Monday, Senator Don Beyer introduced an amendment to the 2018 National Defense Authorization Act (NDAA), blocking funding for any joint Russia/US cybersecurity efforts.
It states "(n)one of the funds…may be obligated or expended to share intelligence, information, equipment, personnel, or facilities related to any cyber agreement entered into with Russia after December 31, 2016."
Other amendments call for "confront(ing) Russian interference in the 2016 election" - even though none occurred.
Overwhelming congressional and scoundrel media sentiment is anti-Russia.
Mutual cooperation between both countries on virtually any significant issue is unattainable because neocons infesting Washington reject it.
-###-
Stephen Lendman lives in Chicago. He can be reached at lendmanstephen@sbcglobal.net.
VISIT MY NEW WEB SITE: stephenlendman.org (Home - Stephen Lendman)

My newest book as editor and contributor is titled "Flashpoint in Ukraine: How the US Drive for Hegemony Risks WW III."
Virus-free. www.avg.com