By Michael Collins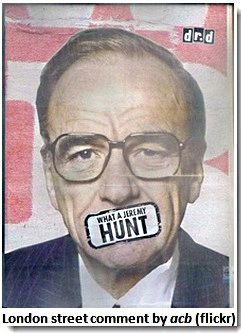 When things don't work out, doing business with Murdoch can be the kiss of death.
No matter how hard you try, how loyal you are, if something goes wrong, you can be sure it will be your fault.
Reporting has failed to lay the proper foundation for understanding Rupert Murdoch's remarkable testimony before the Leveson Inquiry in London and his behavior of late.
Rupert Murdoch is a nihilist.
Murdoch's television outlets in the United States stoked the fires for the 2003 invasion of Iraq based on outrageous misrepresentations like the idea that Saddam Hussein was responsible for the 9/11 attacks. The war cost tens of thousands of dead and seriously injured U.S. soldiers, several hundred thousand dead Iraqi civilians, and $3 trillion. (Image: acb)
Last summer, Murdoch went full throttle to support Republicans in the U.S. Congress as they fabricated a debt ceiling crisis that seriously damaged the credit rating of the United States of America.
Murdoch's support of the Tea Party created an utterly irrational voice in U.S. politics that prevents even the most modest necessary reforms. Created by right wing lobbyists, this pseudo party blocks every vital project, from reviving the economy to an effective, coordinated response to the crisis created by climate change.
In the nations occupied by his multinational media empire Murdoch takes the path of maximum damage to the public and governance.