By Michael Collins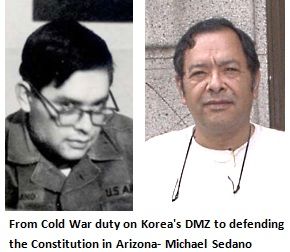 Bad things are happening in Arizona … again. Good things too!
The extremist Arizona legislature enacted a law that just recently caused the banning of nearly 100 books from Tucson public schools. The list includes prominent Latino authors, plus Shakespeare, Thoreau, and James Baldwin. They even banned Zorro!
The real goal was to totally dismantle the Tucson school district's Mexican American Studies program. Mission accomplished. The program is gone. Not a class survived.
The enabling act, Arizona House Bill 2281, contains some lofty language. It requires that school districts teach students to "value each other as individuals." They cannot be instructed to "hate other races" or "overthrow the United States government." Promoting "resentment toward a race or class of people" or "ethnic solidarity" is forbidden. A bit overdone but it has some potential, right?
The law was just a smokescreen to cover ethnically based attacks on Latinos students in Tucson schools. Neither the banned books nor the dismantled Mexican American Studies program violated any of the provisions listed yet the law banned the books and ended the program.