Link: http://www.a-w-i-p.com/index.php/2010/09/17/on-massacres-atrocities-and-holocausts-s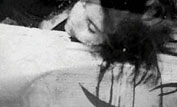 ■ People tortured. Blackened bodies smelling of roasted flesh from the power shocks that had convulsed their bodies before their hearts gave out – the electric wires still tied around their lifeless limbs.
■ People with gouged out eye sockets. Faces unrecognisable with the gaping holes that had plunged them into darkness before their lives were thankfully ended.
■ Women raped. Not once – but two, three, four times – horribly violated, their legs shamelessly ripped apart with not even the cover of clothing to preserve their dignity at the moment of death.
■ Children dynamited alive. So many body parts ripped from their tiny torsos, so hard to know to whom they belonged – just mounds of bloodied limbs amongst the tousled heads of children in pools of blood.
■ Families executed. Blood, blood and more blood sprayed on the walls of homes where whole families had been axed to death in a frenzy or lined up for a more orderly execution.